The 9-inch was standard equipment in almost every Ford car and light truck built from 1957 through 1986. Today, due to its legendary strength and unparalleled aftermarket support, it can be found in every manner of custom hot rod, muscle car/truck, and drag car. During its long production run, two different axle bearings sizes and three different housing end styles were used.
Small vs. Large Axle Bearing
Small axle bearing housing ends where predominately used in lighter passenger cars with 28-spline axles, while high-performance Mustang models including, the Boss 302, 429 and 427 were equipped with 31-spline axles. The small bearing housing end remained in use until 1979.

Early big bearing housing ends appeared in more substantial vehicles such as the 1959 Galaxie and continued to be used until the introduction of the 1973 model Gran Torino, which introduced the late model big bearing (Torino) housing end. Torino big bearing housing ends remained in production until the end of the 9-inch output in 1986. Both 28 and 31-spline axles were used with big bearings. While the early and late big bearing housing ends feature different backing plate and axle retainer bolt patterns, the axle bearings used are identical.
Determining Bearing Size
There is only one sure-fire way to determine the axle bearing size of a 9-inch without removing the axles, and that's to measure the bolt pattern spacing of the housing end. With the brake drum or rotor removed, measure the distance between the bolt hole centers, as shown in the images below.
Housing End and Axle Bearing Identification
Use the images and dimensions below to identify the housing end type and the associated axle bearing size.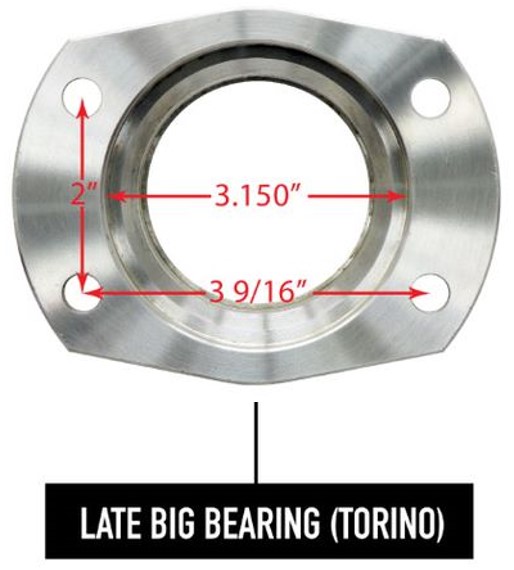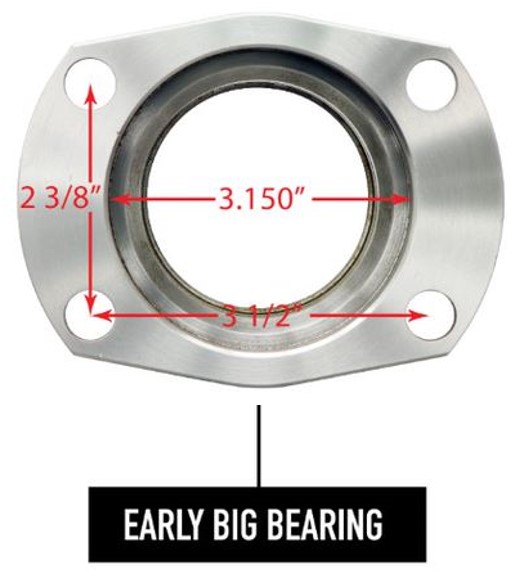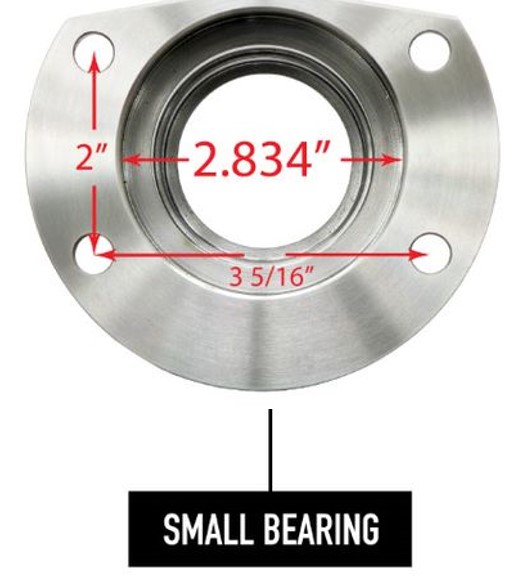 Myth vs. Reality
Many internet sources will claim that the bearing size can be reliably determined by the size of the T-bolt nuts used to secure the bearing retainer plate to the housing. It is said that small bearing housings always use a 9/16 socket size, while the big bearing housing use 11/16 socket size on the retaining nuts. While this method may work some of the time, it can also yield incorrect results, as there is no guarantee that the bolt/nut size was not altered at some point during the life of the rearend.