At Currie Enterprises, we have decades of experience building custom axles for a wide variety of applications. Whether you own a muscle car, slammed custom truck, dedicated drag car, modified Jeep, or even high-level desert racer, we do it all.

While the details of building a custom axle assembly remain mostly unchanged, some aspects have evolved; for example, the availability of various 4-link, airbag, and long-arm suspension brackets are quickly becoming a staple in today's aftermarket. This increase in availability means more Currie customers require the installation of application-specific brackets on the axle housing; luckily, we can cater to these needs.

Below is our simple 3-step process Currie uses to ensure your custom mounts are correctly installed.

Step #1
When ordering your Currie axle assembly, let the sales rep know what suspension kit you will be using. Quality kits will include a detailed line drawing that shows the required bracket locations on the axle housing (sample below). For custom leaf spring pad mount or shock mount locations, over-the-phone measurements are acceptable.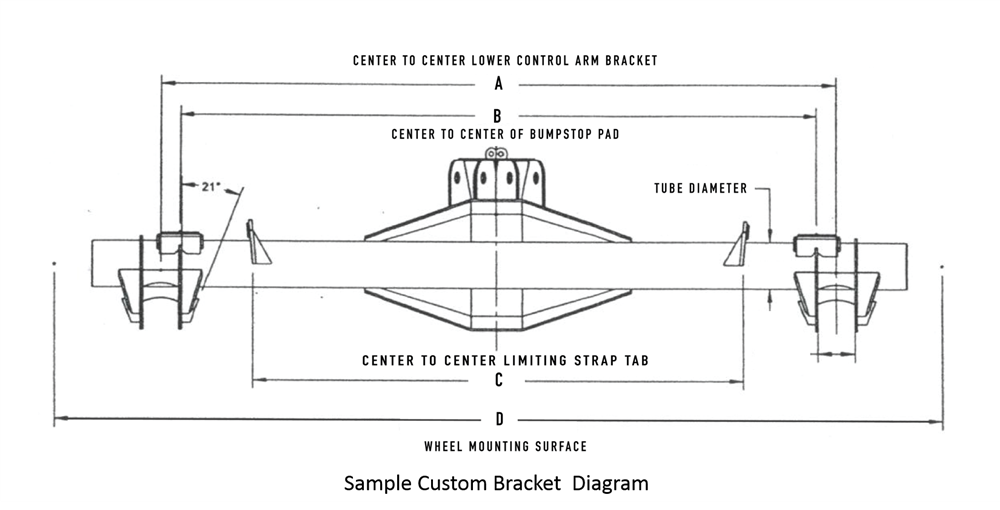 Step #2
Once you have the manufacturer's line drawing or the pertinent measurements for leaf spring pads, a Currie sales rep will work with you to generate a detailed project quote. If you decide to proceed, a 50-percent deposit on the project will be taken, and you will receive a Sales Order number for reference.

Step#3
Send the manufacturer's line drawings and brackets (such as Ridetech, TCI, Detroit Speed, Rock Krawler etc.) along with the Sales Order number to the attention of the sales representative. Once all necessary information is collected, the order moves into production, where the housing and brackets are joined together with strong, attractive welds. Great care is taken throughout the assembly process to assure that the finished product is straight and that all bearing surfaces are aligned and true.